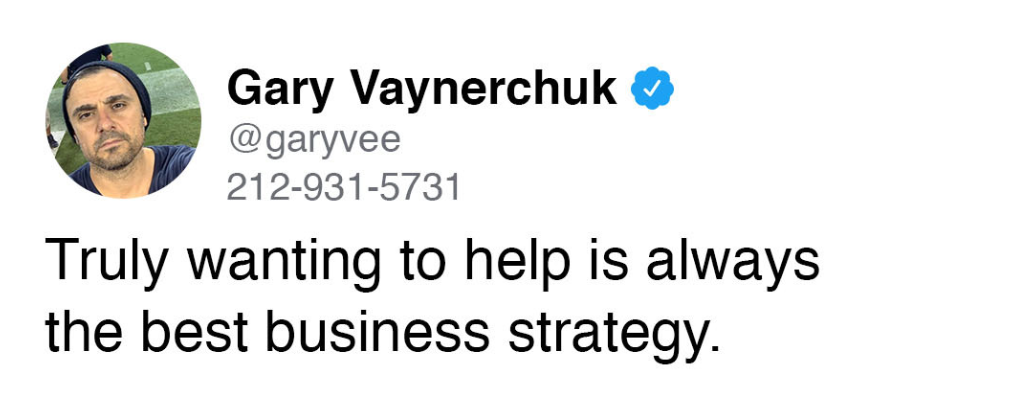 We love a good GaryVee quote.
We try to live our lives in line with the philosophy of bringing value in everything that we do.
Prior to the launch of BeMySocial, we have been on the 'victim' side of many a marketing agency with big promises, phoney enthusiasm and underhanded practices.
The results came late or not at all (and with plenty of excuses and reasons to spend more money). Their invoices? They came on time.
What We Did
We didn't like how this felt from a customer perspective – and vowed to do everything possible to help our customers achieve their goals – as though it were our own business that we were fighting to build.
As cheesy as it sounds, your success and growth is our success and growth.
We aim to put ourselves in a customer's shoes, face their challenges with them, and never EVER advocate throwing good money after bad.
You do however, have to test, learn, optimise and overtly deliver value to your existing customers in the same way that we'll try to deliver for you. That will be your platform for growth.
We're by no means averse to bold strategies, but we need to ensure that anything we work on is within your appetite for risk..
Some of the ideas that have provided initial results will not be effective as you scale, and we won't help your on your way over a cliff.
By having clear client expectations, we certainly can achieve a lot.
Yes, we can present your brand online in a clear, consistent and professional way
Yes, we can come up with creative ideas and go 'above and beyond' to support your business goals
Yes, we can create a lead-gen campaign that is profitable as we gain customers with strong average lifetime value.
Yes, once you have the fundamental strength needed to push forward, you can use investment to grow at a healthy rate.
And yes, every one of our customers can ask for our team's help or advice in any area that we can add value to. We provide on average 5 hours of unpaid work per month to each client to help over-deliver on our core services.
Look past the nonsense to find a creative working partner that wants to come up with ideas for your business as much as you do.
So as a customer, what can you expect?
First we'll ensure that you have a strong and consistent platform, and only then will we consider taking money to advertise. Attracting customers is about more than the advert – it's about the fundamental reasons that your brand exists. Your 'why'. Social media marketing, Search Engine Optimised articles (like the one you're reading now) and a fresh brand design will all go a long way to help you resonate with your target consumer.
Market research and competitor analysis will help to determine established methods that we can build on. We'll analyse your products and services, target market, and current marketing plan to determine effective marketing strategies moving forward.
If your business is fairly new and/or in a competitive arena, we're likely to turn you away from paid ads until your brand fundamentals are in a healthy place.
Is this the fastest way to make money from you? No.
Does it help to deliver your long term success? Absolutely.
You need to truly feel like you're adding valuable human resource to your business when you increase your marketing agency spend. Every one of our customers appreciates the strength of our team behind them.
Modern marketing has to account for the fact that your customers are bored – and that their attention span has been limited by the sensory overload of today's media. You risk being one of many new names that customers gloss over as they stalk one of their old school friends on Facebook.
Reach out and grab their attention… then help them understand why they should care as much about your story as they do about Becky – who they haven't seen since year 11.
A big part of our ongoing journey will be collaboration. We need to hear from you. This is your brand, and feedback and suggestions for what you'd like to see will be immensely valuable.
So let's begin this journey together. No nonsense, no smoke and mirrors and no false promises or fake enthusiasm. Sound good? Get in touch.