Whether you like it or not, Graphic Design has a huge impact on your business. You could even go as far as saying that the deciding factor on if you succeed or not is if you put that extra effort into polishing your page with professional graphic design. It is the one thing that can make a customer decide if they want to choose you over a rival.
If you look at it from a customer standpoint when they look for a product the first thing which they will notice is how seriously and professionally you take your business. If you were to have a page with a poor logo design or poor assets then it directly reflects upon your work ethic.
So if your page is a Facebook business page or a custom website it is vital that you show your work ethic via that page.
What Graphic Design is used for?
Graphic Design is a craft where a professional creates visual content in an attempt to communicate a message to an audience. This message could anything from the type of business you run to the products and services you offer.
Let's use the Be My Social logo as an example: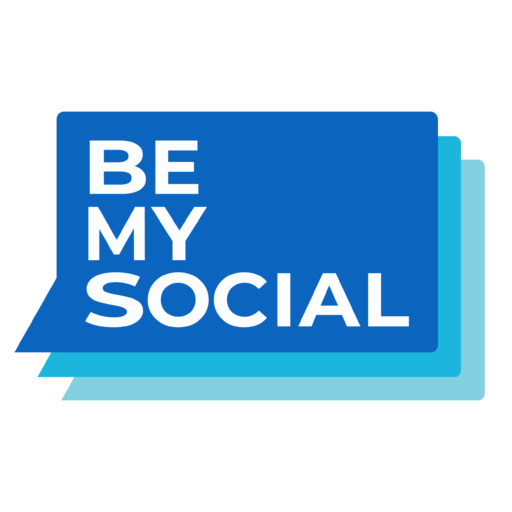 This logo conveys the message of our company, that is that we are creators which specialize in communications. You can gather this information from the speech bubbles which are commonly used to show social interaction. The Logo also shows our company name, this is something that you need to show at least once on your page. This helps the customer remember and recall your company as any time they see a speech bubble they subconsciously think about us.
It is the same psychological process that makes people think about Instagram when they see a camera. It invokes brand recognition as customers are able to attach a name to an object and naturally humans are very good at doing this.
As a small business if you can tie your brand to a logo from the start then it is great as it also invokes consistency so it is very important you get it right.
You may feel like you should go to a graphic design student for your business organization but this is only good for that reason, although there are plenty of outliers, you are much better off going to a professional design studio for security. This is because they will be hiring professionals photoshop illustrators with graphic design degrees.
They will also be more likely to provide for your needs as they have indefinitely designed a wide range of assets whether that be for a web design project or a food wholesaler. They have definitely worked on plenty of graphic design projects for many businesses because they have real-world experience in the design industry and will be able to specialize in graphic communication to get a message across and they will be able to assist you in your journey in growing.
If you go to a company for your needs then you help them grow as well and you open the opportunity for work placement on their behalf. This can overall help new apprentices learn more about visual communication and arts and design.
In Conclusion
In Conclusion, graphic design is an aspect of a business that should not be looked over, if you truly care about your brand and how it is displayed to the public then you should definitely invest in a good logo at least because at the end of the day the image a potential customer sees can affect how they see your business and help them decide whether or not your company provides a better product or service for them.
If you need graphic design or help with your business in deciding what you need to propel your business to get the attention you deserve then don't hesitate to contact our team of professionals here at Be My Social.
We also are able to help you with a range of other services such as web design or social media marketing.